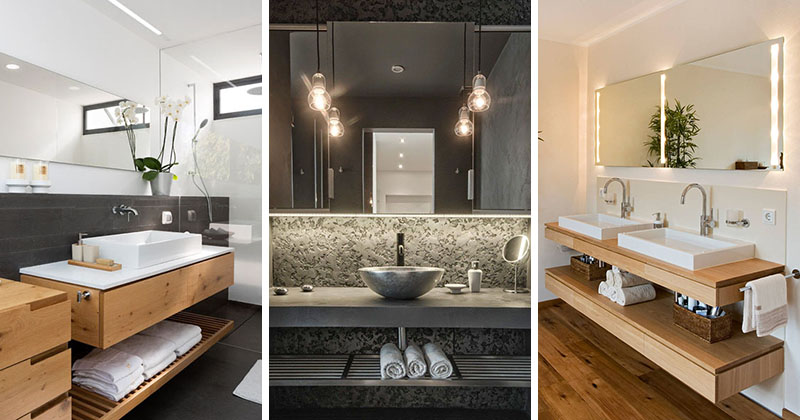 Including an open shelf under your bathroom countertop is a great way to add more storage to your bathroom and gives you an opportunity to add new materials to the space.
---
1. Dual sinks sit above a floating shelf that's just the right height to store various lotions, potions, and creams as well as a stack of towels.
---
---
2. The wood counter and shelf in this bathroom add warmth to the colorful space and provide a convenient place to store all your bathroom essentials.
---
See more photos of this house, here. Designed by DAPstockholm. Photography by Åke E:son Lindman.
---
3. The dark shelf under this stone counter contrast the light materials in the bathroom and tie in the black hardware and accessories.
---
See more photos of this house, here. Designed by DA Inc. Interior design by Erinn Valencich. Photography by John Russo.
---
4. The wood used on the shelf in this bathroom is the same wood used on the walls and floor of the bedroom, creating a cohesive look and helping to warm up the marble used throughout the rest of the bathroom.
---
---
5. The long wood self under the counter of this minimalist bathroom creates a place to store bathroom supplies and adds an element of depth to the space.
---
---
6. The wooden shelf under the concrete countertop provides a dry place to keep things you don't want getting wet, like towels and speakers.
---
---
7. The tiny gaps between the pieces of wood making up this bathroom shelf make sure that if water does make it's way down there, it won't pool and soak whatever you have sitting on the shelf.
---
See more photos of this house, here. Designed by Cadas Arquitetura. Photography by MCA Estúdio.
---
8. A shelf underneath your bathroom counter eliminates the need to store your towels in a linen closet away from the bathroom and makes sure you never have to call for someone to bring you a towel.
---
---
9. This simple white shelf under the bathroom counter blends right in with the rest of the decor to keep a minimalist feel while getting the functionality of extra storage.
---
See more photos of this suite, here. Designed by PATSIOS Architecture. Photography by Paterakis Vangelis. Styling by Michalis Anestis.
---
10. The shelf under this clean white sink also has a drawer so you can keep your pretty towels out but hide your toilet paper and other less visually appealing things in the drawer.
---
---
11. This shelf also holds a set of drawers at one end to provide more storage and keep bathroom products more organized.
---
---
12. There's enough space under this bathroom shelf to fit a small garbage can and maybe even a few baskets with toilet paper or other bathroom essentials.
---
See more photos of this apartment, here. Designed by Tatiana Nicol.
---
13. The little bit of wood included in this bathroom in the form of an under the sink shelf adds just enough warmth to the space to keep it from feeling cold and uninviting.
---
See more photos of this house, here. Designed by Corben Architects. Photography by Justin Alexander.
---
14. The dark colors used in this bathroom and the metal shelf under the sink give this bathroom an industrial look.
---
Interior design by OOOOX. Photography by Martin Zeman of DAtelier.
---
15. A shelf under the sink that also has cupboards is a great storage solution for small bathrooms like this one.
---
See more photos of this house, here. Designed by Vincent Coste. Photography by Florent Joliot.
---
16. This bathroom predominantly covered in stone tiles but is warmed up with the wood counter and shelf that give it a modern and inviting look.
---
Designed by Henk-Peter de Graaf of De Eerste Kamer.
---
17. The shelf under the sink doesn't have to run the full length of the counter, as seen in this bright bathroom. Leaving a bit of space between the end of the shelf and the end of the counter creates the perfect spot for either a trash can or a laundry basket.
---
---
Get the contemporist daily email newsletter – sign up here